Flood Warning for
Lutz, FL
Flood Warning issued August 14 at 9:01AM EDT until August 15 at 2:00AM EDT by NWS Tampa Bay
AREAS AFFECTED: N/A
DESCRIPTION: ...The Flood Warning continues for the following rivers in Florida... Cypress Creek At Worthington Gardens .Drier conditions over the last few days has allowed Cypress Creek to fall. Scattered showers and storms are still expected over the next two days but if no heavy rain occurs over the basin expect the creek to fall below flood stage tonight. The Flood Warning continues for The Cypress Creek At Worthington Gardens * Until late tonight. * At 08 AM Tuesday the stage was 8.1 feet. * Minor flooding is occurring and Minor flooding is forecast. * Flood stage is 8.0 feet. * The river is expected to fall below flood stage by this evening. * Impact...at 8.0 feet...Flooding begins at the recreation area on State Road 54. * Flood history...This compares to a previous crest of 8.1 feet on Jul 27 2013. && FLD OBSERVED FORECAST 8AM LOCATION STG STG DAY TIME Wed Thu Fri Sat Sun Cypress Creek Worthington 8.0 8.1 Tue 08 AM 7.9 7.7 7.5 7.3 7.1 &&
INSTRUCTION: Do not drive cars through flooded areas. Stay tuned to developments by listening to NOAA Weather Radio. The latest forecasts can also be found on weather.gov/tampabay. You can follow NWSTampaBay on Twitter and like us on Facebook.
Current U.S. National Radar--Current
The Current National Weather Radar is shown below with a UTC Time (subtract 5 hours from UTC to get Eastern Time).
National Weather Forecast--Current
The Current National Weather Forecast and National Weather Map are shown below.
National Weather Forecast for Tomorrow
Tomorrow National Weather Forecast and Tomorrow National Weather Map are show below.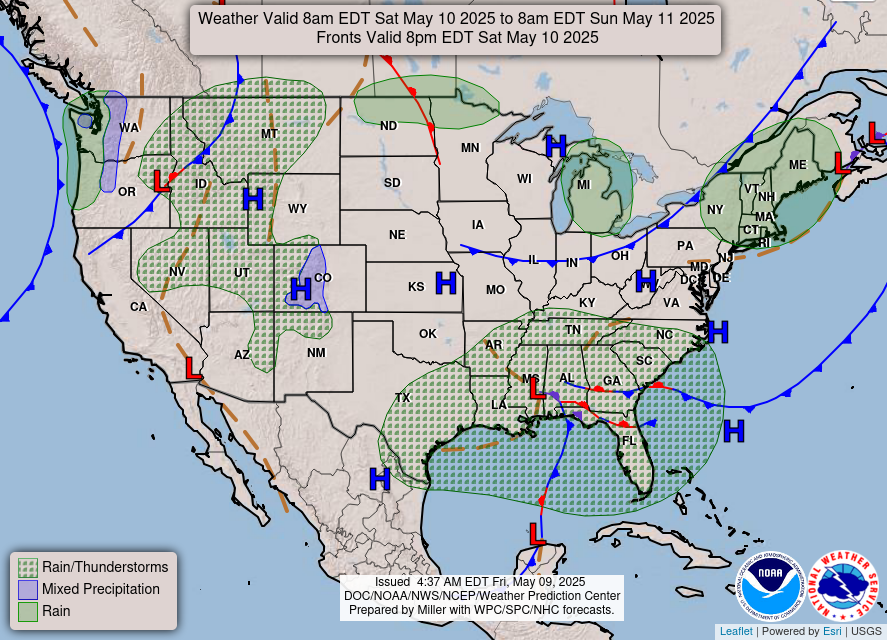 North America Water Vapor (Moisture)
This map shows recent moisture content over North America. Bright and colored areas show high moisture (ie, clouds ); brown indicates very little moisture present; black indicates no moisture.
Amazing Weather Videos (updated daily)
Amazing pics and movies of weather, mother nature, mother earth and people with cameras in the right place at the right time.
Weather Topic:

What are Cumulonimbus Clouds?

Home - Education - Cloud Types - Cumulonimbus Clouds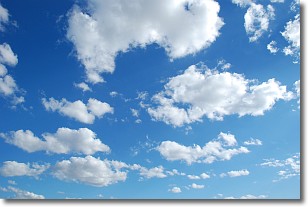 Next Topic: Stratus Clouds

The final form taken by a growing cumulus cloud is the cumulonimbus cloud, which is very tall and dense. The tower of a cumulonimbus cloud can soar 23 km into the atmosphere, although most commonly they stop growing at an altitude of 6 km.

Even small cumulonimbus clouds appear very large in comparison to other cloud types. They can signal the approach of stormy weather, such as thunderstorms or blizzards.

Next Topic: Stratus Clouds
Weather Topic:

What are Nimbostratus Clouds?

Home - Education - Cloud Types - Nimbostratus Clouds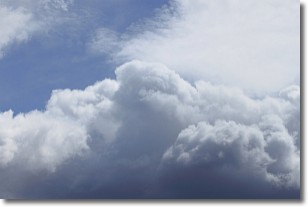 Next Topic: Stratocumulus Clouds

A nimbostratus cloud is similar to a stratus cloud in its formless, smooth appearance. However, a nimbostratus cloud is darker than a stratus cloud, because it is thicker.

Unlike a stratus cloud, a nimbostratus cloud typically brings with it the threat of moderate to heavy precipitation. In some cases, the precipitation may evaporate before reaching the ground, a phenomenon known as virga.

Next Topic: Stratocumulus Clouds