Winter Weather Advisory for
Paupack, PA
Winter Weather Advisory issued March 22 at 10:44PM EDT until March 23 at 8:00AM EDT by NWS Binghamton
AREAS AFFECTED: Northern Wayne; Susquehanna
DESCRIPTION: ...WINTER WEATHER ADVISORY REMAINS IN EFFECT UNTIL 8 AM EDT SATURDAY... * WHAT...Snow. Additional snow accumulations of an inch or two in spots. Winds gusting as high as 40 mph could cause areas of blowing snow. * WHERE...In Pennsylvania, Susquehanna county. In New York, Sullivan, Tioga and Broome counties. * WHEN... Snow showers ending around daybreak Saturday. * ADDITIONAL DETAILS...Plan on slippery road conditions. Areas of blowing snow could significantly reduce visibility. The hazardous conditions could impact the evening commute.
INSTRUCTION: A Winter Weather Advisory for snow means periods of snow will cause primarily travel difficulties. Expect snow covered roads and limited visibilities, and use caution while driving. The latest road conditions for the state you are calling from can be obtained by calling 5 1 1.
Current U.S. National Radar--Current
The Current National Weather Radar is shown below with a UTC Time (subtract 5 hours from UTC to get Eastern Time).
National Weather Forecast--Current
The Current National Weather Forecast and National Weather Map are shown below.
National Weather Forecast for Tomorrow
Tomorrow National Weather Forecast and Tomorrow National Weather Map are show below.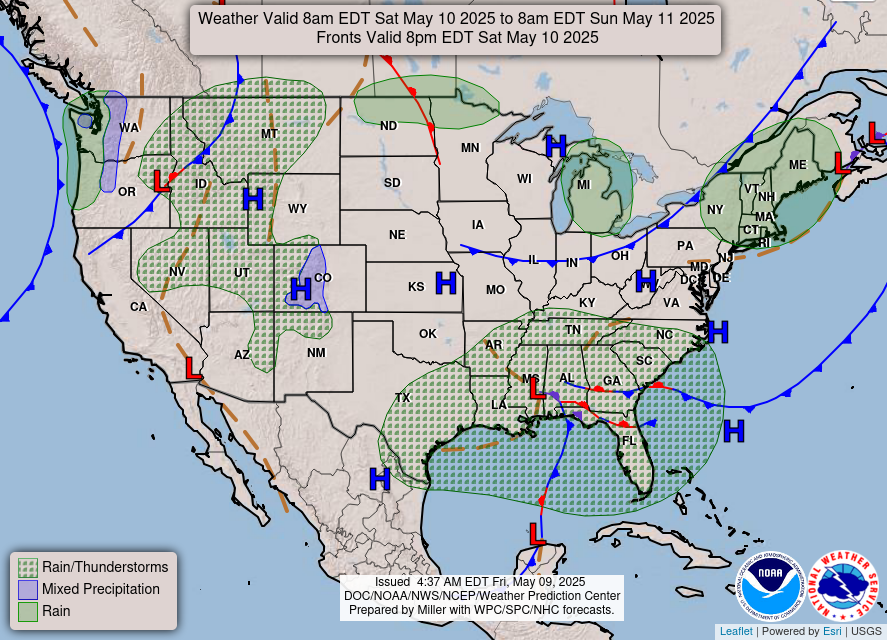 North America Water Vapor (Moisture)
This map shows recent moisture content over North America. Bright and colored areas show high moisture (ie, clouds ); brown indicates very little moisture present; black indicates no moisture.
Amazing Weather Videos (updated daily)
Amazing pics and movies of weather, mother nature, mother earth and people with cameras in the right place at the right time.
Weather Topic:

What is Sleet?

Home - Education - Precipitation - Sleet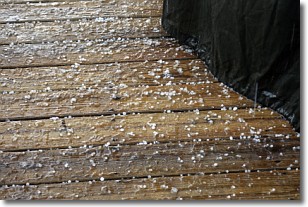 Next Topic: Snow

Sleet is a form of precipitation in which small ice pellets are the primary components. These ice pellets are smaller and more translucent than hailstones, and harder than graupel. Sleet is caused by specific atmospheric conditions and therefore typically doesn't last for extended periods of time.

The condition which leads to sleet formation requires a warmer body of air to be wedged in between two sub-freezing bodies of air. When snow falls through a warmer layer of air it melts, and as it falls through the next sub-freezing body of air it freezes again, forming ice pellets known as sleet. In some cases, water droplets don't have time to freeze before reaching the surface and the result is freezing rain.

Next Topic: Snow
Weather Topic:

What are Cirrus Clouds?

Home - Education - Cloud Types - Cirrus Clouds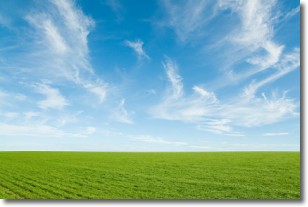 Next Topic: Cirrocumulus Clouds

Cirrus clouds are high-level clouds that occur above 20,000 feet and are composed mainly of ice crystals. They are thin and wispy in appearance.

What do they indicate?
They are often the first sign of an approaching storm.

Next Topic: Cirrocumulus Clouds