Current Weather for
Colorado Springs, CO
Astronomy:
Sunrise: 5:55 am
Sunset: 7:57 pm
Moon:
New Moon
Today's Almanac:
Average High: 61 °F
Average Low: 35 °F
Record High: 82 °F
(2000)
Record Low: 21 °F
(1999)
Yesterday's Almanac:
Click here for yesterday's data!
More Colorado Springs, CO Links: Yesterday's Weather - 7-Day Forecast Details - Radar - Current Time

Change Units: °F and mph - °C and km/h - °C and mph (U.K.)
Current U.S. National Radar--Current
The Current National Weather Radar is shown below with a UTC Time (subtract 5 hours from UTC to get Eastern Time).
National Weather Forecast--Current
The Current National Weather Forecast and National Weather Map are shown below.
National Weather Forecast for Tomorrow
Tomorrow's National Weather Forecast and Tomorrow's National Weather Map are show below.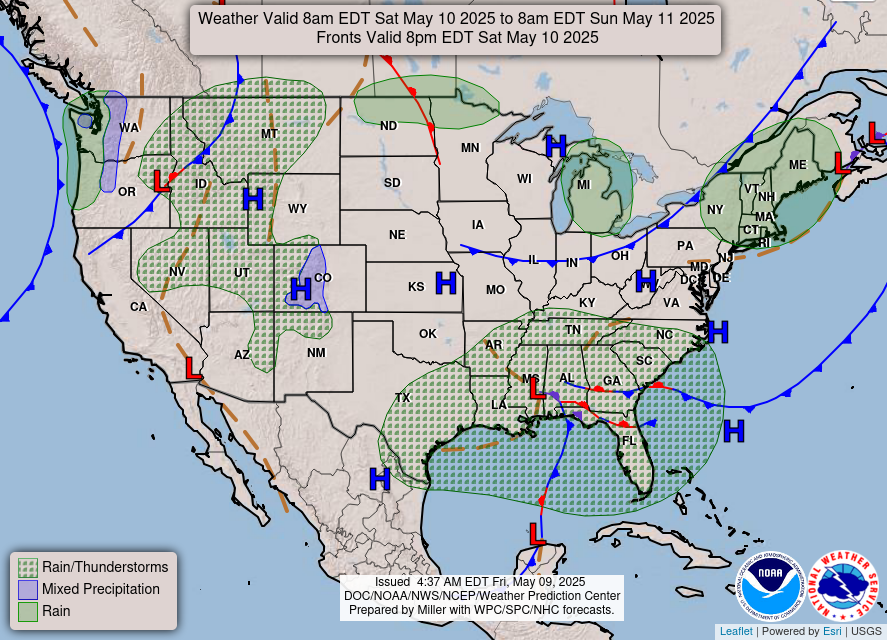 North America Water Vapor (Moisture)
This map shows recent moisture content over North America. Bright and colored areas show high moisture (ie, clouds ); brown indicates very little moisture present; black indicates no moisture.
Amazing Weather Videos (updated daily)
Amazing pics and movies of weather, mother nature, mother earth and people with cameras in the right place at the right time.