Weather Widgets for
Mocksville, NC
Please enter your City or ZIP Code above to get your local weather.
Add our weather widgets on MySpace, your blog, and other websites!
Note: To use a widget for a different location, please search for that city in Search box at the top first.
Style #1 Preview: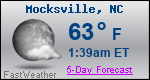 Copy the code below to post on your page:
More styles to be added later! Please Contact Us if you would like to submit design ideas to us!
This page shows weather widgets for the following ZIP codes:
27028, 27028