Current Weather for
Frankfurt Airport, Germany (FRA)
Sorry, no data found! Please try later.
Astronomy:
Sunrise: N/A
Sunset: N/A
Moon: N/A
Today's Almanac:
Average High: N/A
Average Low: N/A
Record High: N/A
Record Low: N/A
Amazing Weather Videos (updated daily)
Amazing pics and movies of weather, mother nature, mother earth and people with cameras in the right place at the right time.
Weather Topic:

What is Precipitation?

Home - Education - Precipitation - Precipitation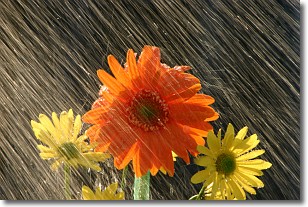 Next Topic: Rain

Precipitation can refer to many different forms of water that may fall from clouds. Precipitation occurs after a cloud has become saturated to the point where its water particles are more dense than the air below the cloud.

In most cases, precipitation will reach the ground, but it is not uncommon for precipitation to evaporate before it reaches the earth's surface. When precipitation evaporates before it contacts the ground it is called Virga. Graupel, hail, sleet, rain, drizzle, and snow are forms of precipitation, but fog and mist are not considered precipitation because the water vapor which constitutes them isn't dense enough to fall to the ground.

Next Topic: Rain
Weather Topic:

What is Sleet?

Home - Education - Precipitation - Sleet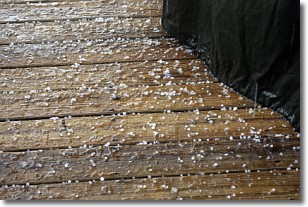 Next Topic: Snow

Sleet is a form of precipitation in which small ice pellets are the primary components. These ice pellets are smaller and more translucent than hailstones, and harder than graupel. Sleet is caused by specific atmospheric conditions and therefore typically doesn't last for extended periods of time.

The condition which leads to sleet formation requires a warmer body of air to be wedged in between two sub-freezing bodies of air. When snow falls through a warmer layer of air it melts, and as it falls through the next sub-freezing body of air it freezes again, forming ice pellets known as sleet. In some cases, water droplets don't have time to freeze before reaching the surface and the result is freezing rain.

Next Topic: Snow