Flood Warning for
Saint Mary, MO
Flood Warning issued June 15 at 9:33PM CDT until further notice by NWS Saint Louis
AREAS AFFECTED: Perry; Ste. Genevieve
DESCRIPTION: ...The flood warning continues for the Mississippi River along the Missouri and Illinois border.. at Canton at LaGrange at Quincy at Lock & Dam 21 at Hannibal at Saverton at Louisiana at Clarksville at Winfield at Grafton at Mel Price Lock and Dam at St. Louis at Chester River forecasts are based on observed precipitation and forecast precipitation for the next 24 hours. The Flood Warning continues for the Mississippi River at Chester * until further notice. * At 9:00 PM Saturday the stage was 44.6 feet. * Flood stage is 27.0 feet. * Major flooding is forecast. * The river is forecast to continue falling to a stage of 44.1 feet by Monday morning. && Fld Latest 7 a.m. Forecast LOCATION Stg Obs Stg 06/16 06/17 06/18 06/19 06/20 Mississippi River Chester 27.0 44.60 44.3 44.1 43.7 43.0 42.2 &&
INSTRUCTION: Rainfall heavier than forecast could cause river levels to rise even higher than predicted. The National Weather Service will monitor this developing situation and issue follow up statements as conditions or forecasts change. Safety message: Never drive cars, trucks, or sport utility vehicles through flooded areas. The water may be too deep to allow for safe passage. This product, along with additional weather and stream information, is available at http://water.weather.gov/ahps2/index.php?wfo=lsx.
Current U.S. National Radar--Current
The Current National Weather Radar is shown below with a UTC Time (subtract 5 hours from UTC to get Eastern Time).
National Weather Forecast--Current
The Current National Weather Forecast and National Weather Map are shown below.
National Weather Forecast for Tomorrow
Tomorrow National Weather Forecast and Tomorrow National Weather Map are show below.
North America Water Vapor (Moisture)
This map shows recent moisture content over North America. Bright and colored areas show high moisture (ie, clouds ); brown indicates very little moisture present; black indicates no moisture.
Amazing Weather Videos (updated daily)
Amazing pics and movies of weather, mother nature, mother earth and people with cameras in the right place at the right time.
Weather Topic:

What are Mammatus Clouds?

Home - Education - Cloud Types - Mammatus Clouds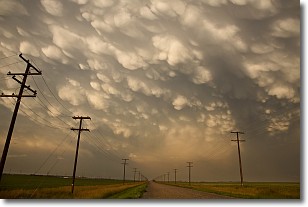 Next Topic: Shelf Clouds

A mammatus cloud is a cloud with a unique feature which resembles a web of pouches hanging along the base of the cloud.

In the United States, mammatus clouds tend to form in the warmer months, commonly in the Midwest and eastern regions.

While they usually form at the bottom of a cumulonimbis cloud, they can also form under altostratus, altocumulus, stratocumulus, and cirrus clouds. Mammatus clouds warn that severe weather is close.

Next Topic: Shelf Clouds
Weather Topic:

What are Wall Clouds?

Home - Education - Cloud Types - Wall Clouds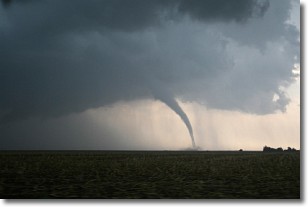 Next Topic: Condensation

A wall cloud forms underneath the base of a cumulonimbus cloud, and can be a hotbed for deadly tornadoes.

Wall clouds are formed by air flowing into the cumulonimbus clouds, which can result in the wall cloud descending from the base of the cumulonimbus cloud, or rising fractus clouds which join to the base of the storm cloud as the wall cloud takes shape.

Wall clouds can be very large, and in the Northern Hemisphere they generally form at the southern edge of cumulonimbus clouds.

Next Topic: Condensation