What is Sleet?
Home - Education - Precipitation - Sleet
An example of sleet: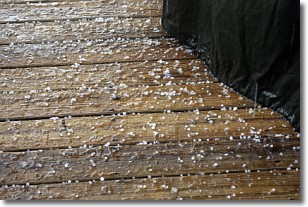 Next Topic: Snow

Sleet is a form of precipitation in which small ice pellets are the primary components. These ice pellets are smaller and more translucent than hailstones, and harder than graupel. Sleet is caused by specific atmospheric conditions and therefore typically doesn't last for extended periods of time.

The condition which leads to sleet formation requires a warmer body of air to be wedged in between two sub-freezing bodies of air. When snow falls through a warmer layer of air it melts, and as it falls through the next sub-freezing body of air it freezes again, forming ice pellets known as sleet. In some cases, water droplets don't have time to freeze before reaching the surface and the result is freezing rain.

Next Topic: Snow
Current U.S. National Radar--Current
The Current National Weather Radar is shown below with a UTC Time (subtract 5 hours from UTC to get Eastern Time).
National Weather Forecast--Current
The Current National Weather Forecast and National Weather Map are shown below.
National Weather Forecast for Tomorrow
Tomorrow National Weather Forecast and Tomorrow National Weather Map are show below.
North America Water Vapor (Moisture)
This map shows recent moisture content over North America. Bright and colored areas show high moisture (ie, clouds); brown indicates very little moisture present; black indicates no moisture.