What is Freezing Rain?
Home - Education - Precipitation - Freezing Rain
An example of freezing rain: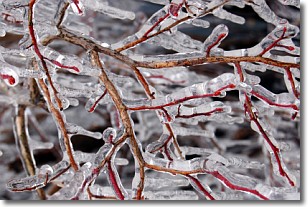 Next Topic: Graupel

Freezing rain is a condition where precipitation which has fallen in the form of water droplets reaches temperatures which are below freezing and freezes upon coming into contact with surface objects. The result of this precipitation is a glaze of ice which can be damaging to plants and man-made structures. A severe onset of freezing rain which results in a very thick glaze of ice is known as an ice storm.

Next Topic: Graupel
Current U.S. National Radar--Current
The Current National Weather Radar is shown below with a UTC Time (subtract 5 hours from UTC to get Eastern Time).
National Weather Forecast--Current
The Current National Weather Forecast and National Weather Map are shown below.
National Weather Forecast for Tomorrow
Tomorrow National Weather Forecast and Tomorrow National Weather Map are show below.
North America Water Vapor (Moisture)
This map shows recent moisture content over North America. Bright and colored areas show high moisture (ie, clouds); brown indicates very little moisture present; black indicates no moisture.