Weather Alert in
Georgia
Flood Warning issued October 24 at 9:30PM EDT until October 26 at 8:00PM EDT by NWS Atlanta
AREAS AFFECTED: Forsyth; Fulton
DESCRIPTION: ...The National Weather Service in Peachtree City GA has issued a Flood Warning for the following rivers in Georgia... Big Creek near Alpharetta affecting Fulton and Forsyth Counties.
INSTRUCTION: Be especially cautious at night when it is harder to recognize the dangers of flooding. Additional information is available at weather.gov/atlanta. GAC117-121-251330- /O.NEW.KFFC.FL.W.0454.201025T0824Z-201027T0000Z/ /APHG1.1.ER.201025T0824Z.201026T0600Z.201026T1800Z.NO/ 930 PM EDT Sat Oct 24 2020 The National Weather Service in Peachtree City has issued a * Flood Warning for the Big Creek near Alpharetta. * From late tonight to Monday evening. * At 8:45 PM EDT Saturday the stage was 5.4 feet and rising. * Flood stage is 7 feet. * Minor flooding is forecast. * Forecast...The creek is expected to rise above flood stage early Sunday morning to a crest of 7.9 feet early Monday morning. It will then fall below flood stage early Monday afternoon. * Impact...At 8 feet, Minor flooding continues to expand further into the woodlands and fields along the creek from near Cumming in south Forsyth County to Alpharetta and Roswell in north Fulton County. Additional portions of The Big Creek Greenway have minor flooding with 1 to 2 feet of water. Most of the walking and biking paths will be closed...especially upstream and downstream from the gage on Kimball Bridge Road and near Rock Mill Park. Portions of the YMCA Campground off Preston Ridge Road will flood.
Current U.S. National Radar--Current
The Current National Weather Radar is shown below with a UTC Time (subtract 5 hours from UTC to get Eastern Time).
National Weather Forecast--Current
The Current National Weather Forecast and National Weather Map are shown below.
National Weather Forecast for Tomorrow
Tomorrow National Weather Forecast and Tomorrow National Weather Map are show below.
North America Water Vapor (Moisture)
This map shows recent moisture content over North America. Bright and colored areas show high moisture (ie, clouds); brown indicates very little moisture present; black indicates no moisture.
Weather Topic:

What is Rain?

Home - Education - Precipitation - Rain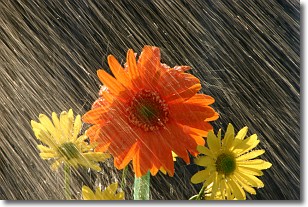 Next Topic: Shelf Clouds

Precipitation in the form of water droplets is called rain. Rain generally has a tendency to fall with less intensity over a greater period of time, and when rainfall is more severe it is usually less sustained.

Rain is the most common form of precipitation and happens with greater frequency depending on the season and regional influences. Cities have been shown to have an observable effect on rainfall, due to an effect called the urban heat island. Compared to upwind, monthly rainfall between twenty and forty miles downwind of cities is 30% greater.

Next Topic: Shelf Clouds
Weather Topic:

What is Sleet?

Home - Education - Precipitation - Sleet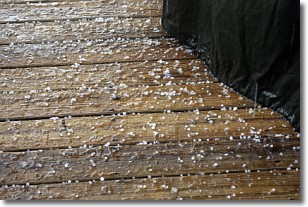 Next Topic: Snow

Sleet is a form of precipitation in which small ice pellets are the primary components. These ice pellets are smaller and more translucent than hailstones, and harder than graupel. Sleet is caused by specific atmospheric conditions and therefore typically doesn't last for extended periods of time.

The condition which leads to sleet formation requires a warmer body of air to be wedged in between two sub-freezing bodies of air. When snow falls through a warmer layer of air it melts, and as it falls through the next sub-freezing body of air it freezes again, forming ice pellets known as sleet. In some cases, water droplets don't have time to freeze before reaching the surface and the result is freezing rain.

Next Topic: Snow