Weather Alert in
Texas
Heat Advisory issued August 13 at 6:10PM CDT until August 15 at 9:00AM CDT by NWS El Paso
AREAS AFFECTED: Eastern, Central El Paso County; Rio Grande Valley of Eastern El Paso, Western Hudspeth Counties; Rio Grande Valley of Eastern Hudspeth County; Western El Paso County
DESCRIPTION: ...RECORD HEAT CONTINUES... ...HEAT ADVISORY REMAINS IN EFFECT UNTIL 8 AM MDT SATURDAY... * WHAT...High temperature values around 105 expected. * WHERE...El Paso Metro area and the Rio Grande valley south of El Paso. * WHEN...Until 8 AM MDT Saturday. * ADDITIONAL DETAILS...Temperatures will be hottest in urbanized areas, rising quickly during the early afternoon hours, and will remain hot through the late evening. Low temperatures will be in the upper 70s to lower 80s, providing little relief during the overnight hours.
INSTRUCTION: Drink plenty of fluids, stay in an air-conditioned room, stay out of the sun, and check up on relatives and neighbors. Young children and pets should never be left unattended in vehicles under any circumstances. Take extra precautions if you work or spend time outside. When possible reschedule strenuous activities to early morning or evening. Know the signs and symptoms of heat exhaustion and heat stroke. Wear lightweight and loose fitting clothing when possible. To reduce risk during outdoor work, the Occupational Safety and Health Administration recommends scheduling frequent rest breaks in shaded or air conditioned environments. Anyone overcome by heat should be moved to a cool and shaded location. Heat stroke is an emergency! Call 9 1 1.
Current U.S. National Radar--Current
The Current National Weather Radar is shown below with a UTC Time (subtract 5 hours from UTC to get Eastern Time).
National Weather Forecast--Current
The Current National Weather Forecast and National Weather Map are shown below.
National Weather Forecast for Tomorrow
Tomorrow National Weather Forecast and Tomorrow National Weather Map are show below.
North America Water Vapor (Moisture)
This map shows recent moisture content over North America. Bright and colored areas show high moisture (ie, clouds); brown indicates very little moisture present; black indicates no moisture.
Weather Topic:

What is Precipitation?

Home - Education - Precipitation - Precipitation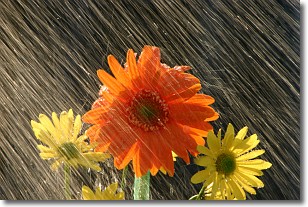 Next Topic: Rain

Precipitation can refer to many different forms of water that may fall from clouds. Precipitation occurs after a cloud has become saturated to the point where its water particles are more dense than the air below the cloud.

In most cases, precipitation will reach the ground, but it is not uncommon for precipitation to evaporate before it reaches the earth's surface. When precipitation evaporates before it contacts the ground it is called Virga. Graupel, hail, sleet, rain, drizzle, and snow are forms of precipitation, but fog and mist are not considered precipitation because the water vapor which constitutes them isn't dense enough to fall to the ground.

Next Topic: Rain
Weather Topic:

What are Shelf Clouds?

Home - Education - Cloud Types - Shelf Clouds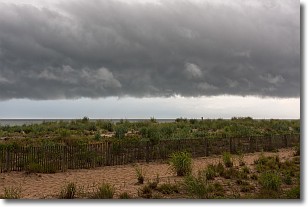 Next Topic: Sleet

A shelf cloud is similar to a wall cloud, but forms at the front of a storm cloud, instead of at the rear, where wall clouds form.

A shelf cloud is caused by a series of events set into motion by the advancing storm; first, cool air settles along the ground where precipitation has just fallen. As the cool air is brought in, the warmer air is displaced, and rises above it, because it is less dense. When the warmer air reaches the bottom of the storm cloud, it begins to cool again, and the resulting condensation is a visible shelf cloud.

Next Topic: Sleet