Weather Alert in
Texas
Heat Advisory issued August 15 at 2:15AM CDT until August 15 at 7:00PM CDT by NWS Houston - Galveston
AREAS AFFECTED: Austin; Brazoria Islands; Brazos; Burleson; Chambers; Coastal Brazoria; Coastal Galveston; Coastal Harris; Coastal Jackson; Coastal Matagorda; Colorado; Fort Bend; Galveston Island and Bolivar Peninsula; Grimes; Houston; Inland Brazoria; Inland Galveston; Inland Harris; Inland Jackson; Inland Matagorda; Madison; Matagorda Islands; Montgomery; Northern Liberty; Polk; San Jacinto; Southern Liberty; Trinity; Walker; Waller; Washington; Wharton
DESCRIPTION: ...HEAT ADVISORY REMAINS IN EFFECT UNTIL 7 PM CDT THIS EVENING... * WHAT...Heat index values of 108 to 110 with some some isolated, brief 110 to 112 readings possible. * WHERE...Portions of south central and southeast Texas. * WHEN...Until 7 PM CDT Saturday. * IMPACTS...Hot temperatures and high humidity will enhance the threat of heat illness if precautions are not taken. * ADDITIONAL DETAILS...Heat indices of 108 begin just after 10 AM on the coast and will be possible inland around 1 PM. Overnight temperatures will only fall into the upper 70s overnight inland to the mid 80s on the coast so little relief will occur overnight. On Sunday, thunderstorms may move into the north, providing a short break from the unseasonable heat - but if that rain does not materialize, another heat advisory will be needed for Sunday.
INSTRUCTION: Drink plenty of fluids, stay in an air-conditioned room, stay out of the sun, and check up on relatives and neighbors. Young children and pets should never be left unattended in vehicles under any circumstances. Take extra precautions if you work or spend time outside. When possible reschedule strenuous activities to early morning or evening. Know the signs and symptoms of heat exhaustion and heat stroke. Wear lightweight and loose fitting clothing when possible. To reduce risk during outdoor work, the Occupational Safety and Health Administration recommends scheduling frequent rest breaks in shaded or air conditioned environments. Anyone overcome by heat should be moved to a cool and shaded location. Heat stroke is an emergency! Call 9 1 1.
Current U.S. National Radar--Current
The Current National Weather Radar is shown below with a UTC Time (subtract 5 hours from UTC to get Eastern Time).
National Weather Forecast--Current
The Current National Weather Forecast and National Weather Map are shown below.
National Weather Forecast for Tomorrow
Tomorrow National Weather Forecast and Tomorrow National Weather Map are show below.
North America Water Vapor (Moisture)
This map shows recent moisture content over North America. Bright and colored areas show high moisture (ie, clouds); brown indicates very little moisture present; black indicates no moisture.
Weather Topic:

What are Altocumulus Clouds?

Home - Education - Cloud Types - Altocumulus Clouds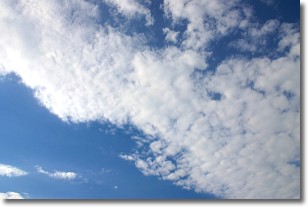 Next Topic: Altostratus Clouds

Similar to cirrocumulus clouds, altocumulus clouds are characterized by cloud patches. They are distinguished by larger cloudlets than cirrocumulus clouds but are still smaller than stratocumulus clouds.

Altocumulus clouds most commonly form in middle altitudes (between 2 and 5 km) and may resemble, at times, the shape of a flying saucer. These uncommon formations, called altocumulus lenticularis, are created by uplift in the atmosphere and are most often seen in close proximity to mountains.

Next Topic: Altostratus Clouds
Weather Topic:

What are Cirrocumulus Clouds?

Home - Education - Cloud Types - Cirrocumulus Clouds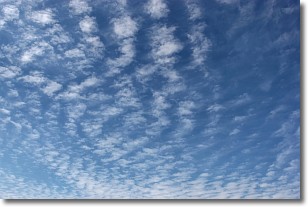 Next Topic: Cirrostratus Clouds

Cirrocumulus clouds form at high altitudes (usually around 5 km) and have distinguishing characteristics displayed in a fine layer of small cloud patches. These small cloud patches are sometimes referred to as "cloudlets" in relation to the whole cloud formation.

Cirrocumulus clouds are formed from ice crystals and water droplets. Often, the water droplets in the cloud freeze into ice crystals and the cloud becomes a cirrostratus cloud. Because of this common occurrence, cirrocumulus cloud formations generally pass rapidly.

Next Topic: Cirrostratus Clouds