Weather Alert in
New York
Special Weather Statement issued September 23 at 8:46AM EDT by NWS Buffalo
AREAS AFFECTED: Allegany; Genesee; Livingston; Monroe; Ontario; Orleans; Wayne; Wyoming
DESCRIPTION: ...HEAVY RAIN AT TIMES THIS MORNING... Moderate to heavy rain will cause ponding of water on roadways and other poor drainage and low-lying areas. The heavier rain will also result in rises on smaller creeks and streams. Motorists should plan extra time to reach your destination and be prepared to slow down in areas of heavy rain. Steady rain will begin to taper off to showers late this morning.
INSTRUCTION: N/A
Current U.S. National Radar--Current
The Current National Weather Radar is shown below with a UTC Time (subtract 5 hours from UTC to get Eastern Time).
National Weather Forecast--Current
The Current National Weather Forecast and National Weather Map are shown below.
National Weather Forecast for Tomorrow
Tomorrow National Weather Forecast and Tomorrow National Weather Map are show below.
North America Water Vapor (Moisture)
This map shows recent moisture content over North America. Bright and colored areas show high moisture (ie, clouds); brown indicates very little moisture present; black indicates no moisture.
Weather Topic:

What are Altocumulus Clouds?

Home - Education - Cloud Types - Altocumulus Clouds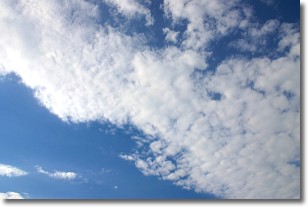 Next Topic: Altostratus Clouds

Similar to cirrocumulus clouds, altocumulus clouds are characterized by cloud patches. They are distinguished by larger cloudlets than cirrocumulus clouds but are still smaller than stratocumulus clouds.

Altocumulus clouds most commonly form in middle altitudes (between 2 and 5 km) and may resemble, at times, the shape of a flying saucer. These uncommon formations, called altocumulus lenticularis, are created by uplift in the atmosphere and are most often seen in close proximity to mountains.

Next Topic: Altostratus Clouds
Weather Topic:

What are Cirrocumulus Clouds?

Home - Education - Cloud Types - Cirrocumulus Clouds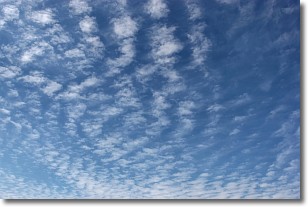 Next Topic: Cirrostratus Clouds

Cirrocumulus clouds form at high altitudes (usually around 5 km) and have distinguishing characteristics displayed in a fine layer of small cloud patches. These small cloud patches are sometimes referred to as "cloudlets" in relation to the whole cloud formation.

Cirrocumulus clouds are formed from ice crystals and water droplets. Often, the water droplets in the cloud freeze into ice crystals and the cloud becomes a cirrostratus cloud. Because of this common occurrence, cirrocumulus cloud formations generally pass rapidly.

Next Topic: Cirrostratus Clouds