Weather Alert in
Oklahoma
Heat Advisory issued August 14 at 3:13AM CDT until August 14 at 8:00PM CDT by NWS Tulsa
AREAS AFFECTED: Choctaw; Creek; McIntosh; Okfuskee; Okmulgee; Osage; Pawnee; Pittsburg; Pushmataha; Tulsa; Washington
DESCRIPTION: ...HEAT ADVISORY IN EFFECT FROM NOON TODAY TO 8 PM CDT THIS EVENING... * WHAT...Heat index values up to 108 expected. * WHERE...Portions of east central, northeast and southeast Oklahoma. * WHEN...From noon today to 8 PM CDT this evening. * IMPACTS...The combination of hot temperatures and high humidity will combine to create a dangerous situation in which heat illnesses are possible.
INSTRUCTION: Take extra precautions if you work or spend time outside. When possible, reschedule strenuous activities to early morning or evening. Know the signs and symptoms of heat exhaustion and heat stroke. Wear light weight and loose fitting clothing when possible and drink plenty of water. To reduce risk during outdoor work the occupational safety and health administration recommends scheduling frequent rest breaks in shaded or air conditioned environments. Anyone overcome by heat should be moved to a cool and shaded location. Heat stroke is an emergency, call 911.
Current U.S. National Radar--Current
The Current National Weather Radar is shown below with a UTC Time (subtract 5 hours from UTC to get Eastern Time).
National Weather Forecast--Current
The Current National Weather Forecast and National Weather Map are shown below.
National Weather Forecast for Tomorrow
Tomorrow National Weather Forecast and Tomorrow National Weather Map are show below.
North America Water Vapor (Moisture)
This map shows recent moisture content over North America. Bright and colored areas show high moisture (ie, clouds); brown indicates very little moisture present; black indicates no moisture.
Weather Topic:

What are Nimbostratus Clouds?

Home - Education - Cloud Types - Nimbostratus Clouds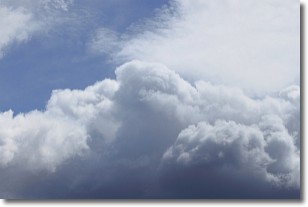 Next Topic: Precipitation

A nimbostratus cloud is similar to a stratus cloud in its formless, smooth appearance. However, a nimbostratus cloud is darker than a stratus cloud, because it is thicker.

Unlike a stratus cloud, a nimbostratus cloud typically brings with it the threat of moderate to heavy precipitation. In some cases, the precipitation may evaporate before reaching the ground, a phenomenon known as virga.

Next Topic: Precipitation
Weather Topic:

What is Rain?

Home - Education - Precipitation - Rain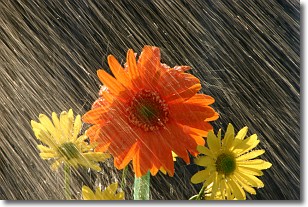 Next Topic: Shelf Clouds

Precipitation in the form of water droplets is called rain. Rain generally has a tendency to fall with less intensity over a greater period of time, and when rainfall is more severe it is usually less sustained.

Rain is the most common form of precipitation and happens with greater frequency depending on the season and regional influences. Cities have been shown to have an observable effect on rainfall, due to an effect called the urban heat island. Compared to upwind, monthly rainfall between twenty and forty miles downwind of cities is 30% greater.

Next Topic: Shelf Clouds